2017 seemed like Groundhog Day for Kronosaur Productions. We worked on a major release of Transcendence but didn't quite finish. We continued to move forward with Part II without releasing it. And we made tiny progress on Anacreon. All in all, not too different from 2016.
And yet, I'm excited by our progress on Transcendence, and I feel 2017 laid the ground work for the future of the game and the company. As Bill Murray learned, there are no short-cuts to success. In this annual report I want to talk about the past year and look ahead to the next.
Business Outlook
We didn't release any new products in 2017, which understandably led to decreased sales. Between Steam and the Multiverse, the game grossed around $9,000 in 2017, which is 10% down from 2016. This is actually higher than projections, and implies that Transcendence is still reaching new players.
In 2018 I hope to release Part II, which should bring in more revenue and give us a chance to re-ignite the marketing push.
Anacreon
Anacreon stayed on the back-burner in 2017, but a group of players led by Watch TV Do Nothing convinced me to spend a couple of weeks fixing critical bugs. Every time I spend time on Anacreon I get excited all over again. The game is full of potential and it deserves more attention.
Alas, we don't have enough resources to focus on two major games. Once Transcendence is generating sufficient revenue we'll be able to expand our efforts, but until then Anacreon will stay on the back-burner.
Nevertheless, I will spend a couple of weeks in 2018 on Anacreon. There are still plenty of bugs to fix, and dozens of features from the original game left to implement. Progress will be slow, of course, but I still love working on the game.
Transcendence
We released 1.7 in 2017 and are planning to release 1.8 in 2018. That makes me think about our version numbers. Does a major.minor version number make sense in a world of continuous releases? Maybe we should have called it Transcendence 2017 or Transcendence 17. We're hurtling towards 2.0 (due in 2020?), which implies a major improvement, but is likely to be just another incremental update over 1.9. What would be a better versioning scheme? Let me know in the forums.
1.8
After releasing 1.7 in early 2017, I turned my attention to 1.8. Though much of my effort has been on adding core engine support for Part II features, I also spent some time polishing the core game. In particular, I'm excited about these features in 1.8:
Buying new ships at shipyards.
Trading mechanics overhaul.
Armor effects on max speed (giving us more armor variety).
Better UI for choosing Korolov escorts.
Revealing some systems in the galactic map (to entice the player).
Using the standard mission system for Commonwealth militia and fleet missions.
New images (e.g., Point Juno and Ares sentries).
The 1.8 schedule is synchronized with Part II. Each new version of Part II will come with a corresponding version of the engine. I expect to release one or two more alphas of 1.8+Part II in 2018. 1.8 Beta 1 will be synchronized with the first feature-complete version of Part II—available hopefully before mid-year.
After that we'll work on fixing bugs and balancing the game before a full release.
Part II: The Vault of the Galaxy
I had hoped to release a 1.0 version of Part II in 2017, but as always my ambition was bigger than the allotted time. Still, I made a lot of progress last year. All the key sovereigns are designed and mostly implemented, the galactic topology is complete, and item progression now goes up to tier VI (graviton/singularity).
There are lots of missing pieces, of course, but skeleton is in place and I just need to flesh out the details. In 2018 I will work on the remaining armor and devices, and on the mission arcs (both sovereign-specific and overall mythology).
Part II ended up being much harder than I thought, mostly because I underestimated the amount of new content that I'd have to create. But I'm very happy with how its turning out and I can't wait to finish it.
Below is a comparison of the spritesheets for Alpha 1 vs. Alpha 4 showing the amount of progress in 2017: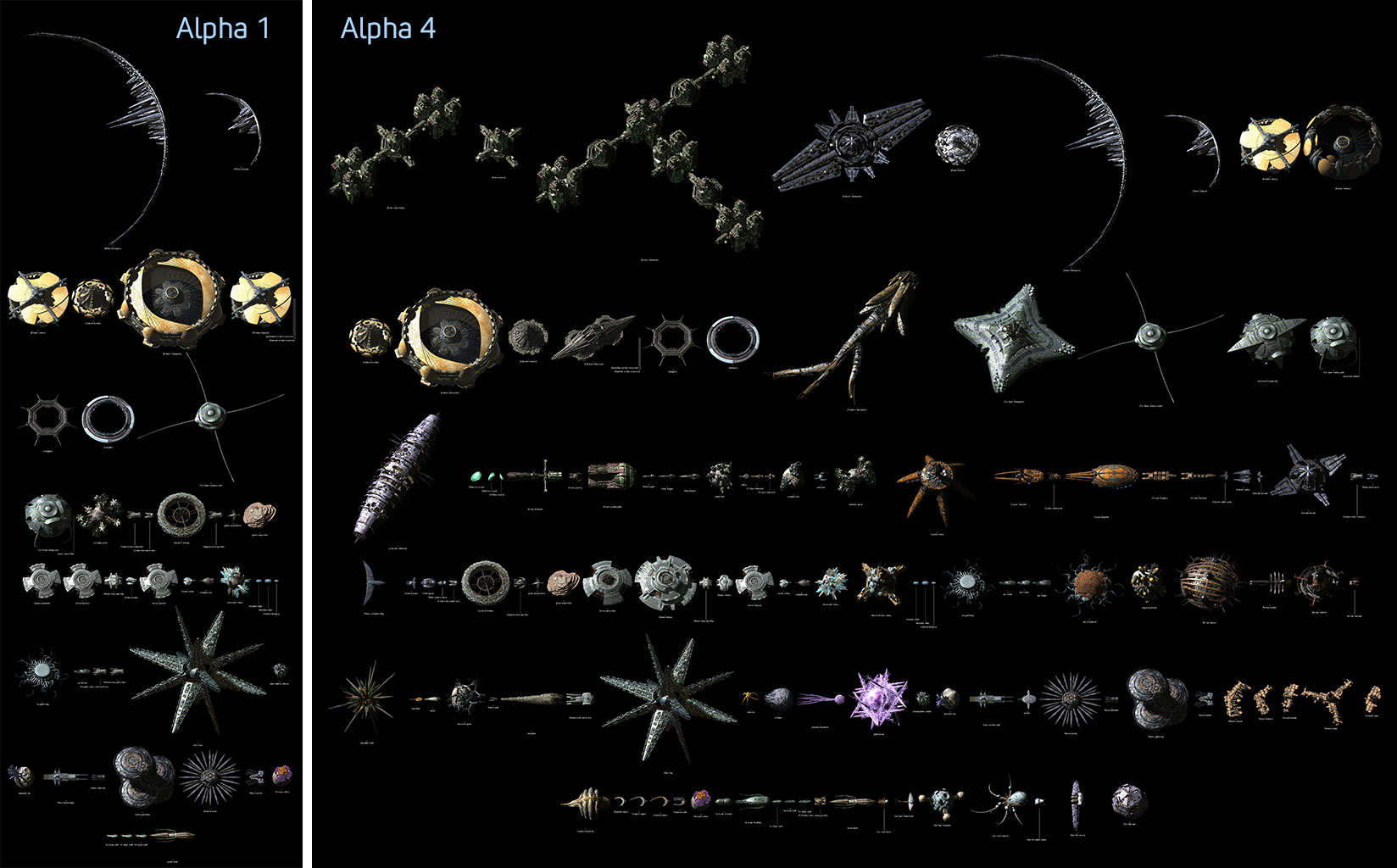 Future
The development of Part II has spanned three major releases: 1.6, 1.7, and 1.8. Once we release Part II we'll be able to concentrate on other major features. I'm happy that even now, almost 15 years after the first public release of the game, I've still got a giant list of ideas to add. No doubt readers will be able to come up with such a list too.
It's too early to talk about exactly what we'd do after Part II, but there are a couple of broad directions that we could pursue:
A new expansion: In a poll asking players about future expansions the winner was the suggestion to create a storyline around the Sung Slavers. That's certainly an excellent possibility, and I would love to dive into their culture.
A living universe: Transcendence should be a living universe filled with amazing encounters and wondrous sights, ready to interact with the player in whatever way they choose. Imagine if the player could visit the hidden haven of the Freeworlds; or broker a truce between the Corporate Hierarchy and the Black Market; or spark a war between the Commonwealth and the Sung; or deal with an interstellar outbreak of the deadly phobos aerium virus.
A crew to command: Though CSC America got put on the back-burner, I've never forgotten about it. It might be possible to add crew dynamics to the core engine and thus allow us to implement CSC America as an adventure. This would also allow the player to command capital ships even in Stars of the Pilgrim.
I hope to start talking about some of these ideas in 2018.
Community
I'm proud of and grateful for the Transcendence community. We went through some ups and downs in 2017, but we've entered 2018 stronger than ever.
I'm particularly happy that several players, including NMS, giantcabbage, heliogenesis, and Archcannon contributed source code to the game in 2017. Their contributions have added new API functions, quality of life improvements, and modernization of the mission code. You can see a partial list of their contributions here: https://ministry.kronosaur.com/program.hexm?id=1&status=closed&tag=83.
In 2018 I hope to enlist players for other projects. AssumedPseudonym and Ttech have volunteered to publish the Twitch sessions on YouTube, and Shrike and others have worked hard to moderate the various discussion channels.
Perhaps it's my half-Asian upbringing, but I've always found it hard to accept help from others. I realize now that was a mistake, and I'm thankful to the Transcendence community for getting me past it.
I can't wait to see what 2018 brings!